Gameplay Testing
Testers will check and report that the game works, is easy to use, has actions that make sense, and contains fun gameplay.

Usability Testing
The primary function will be the discovery and documentation of software defects, use issues, and bugs.

Comfort Level
Testers will go through the app gauging the visually-induced disturbances that cause disorientation and other symptoms of discomfort.

Our Testers
We have vetted testers and a client driven rating system that combine to deliver high quality in-app playtest videos and feedback you can use.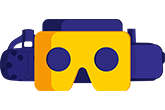 Devices
Oculus Rift, HTC Vive, Windows Mixed Reality, Samsung Gear, Google Daydream, Cardboard, Microsoft Hololens, Lenovo Mirage Solo, Oculus Go, Playstation VR & more.